Loligo
is a platform established to eliminate the risks of investing in ICO's by providing services for ICO Launchers and a platform for investors. This article will give information regarding the platform which will include, the value proposition, problems and the solution offered, business model, token metrics, ICO schedule, team and my concluding remarks on the ICO parameters.
Raising funds for a blockchain project via ICO has become a standard for the last 3 years. Total amount of bot ICO's held and funds raised through 2016 to 2018 have both increased. In
2016
total of
$0.095 billion
raised with
43
ICO's. The total amount raised was
$6.2 billion
in the year
2017
with
371
ICO's. The amount of funds raised is
$18.1 billion
in the first 8 months of
2018
with
739
ICO's. Eventhough we have been through a bear market for the last couple of months the ICO market is still huge and it is getting bigger and bigger every moment.



At this point, it is important to point out the condition of the projects which people have invested in during ICO period. In 2017 84% of the projects was in the idea phase, 11% of them was in prototype stage and only 5% of them was operating. It is clear that you need to be lucky with an ICO investment that it would succeed.
Problem
It is impossible to guarantee an ICO to be safe to invest. ICO holder would escape with the funds resulting in investors to lose all their money. There is no platform exist which offers funding insurance or a solution for funding risk.
• So called centralized ICO platforms such as Indiegogo conducts the ICO without implementing a blockchain. Centralized platforms necessitate the utilization of a third party which brings its' own risks such as; hacking, manipulation, excessive margins and abuses of power.
• Ethereum is the P2P ICO platform of choice for blockchain based projects. However, it is not 100% compatible with the ICO crowdfunding mechanism. It needs to be fairer, purely dedicated to ICO crowdfunding mechanism, providing the optimum security while keeping sale contract deployment simple.
• Hybrid platforms such as KICKICO provides ICO purchases based on ERC-20 standard based Smart Contracts. On the contrary, all the duties such as monitoring and transaction management is conducted via traditional centralized systems which are complex.
• There are other platforms in development phase which are superior to Ethereum such as Neo, Cardano and EOS but yet to be operable in ICO market.
Solution
Loligo is a platform established specifically to enable ICO operation frictionless via staggered smart contracts and participants to control the ICO. Loligo Cyclic Contract (LCC) is the smart contract which will release funds according to the votes of participants in phases. If the participants votes negatively, then project stops and all the remaining funds are returned to investors.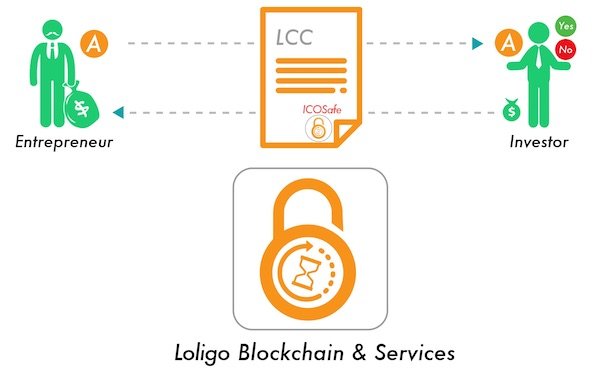 • Factory feature will enable ICO launcher to edit, check, test and publish its' LCC on the blockchain via interacting with Dashboard
• In addition to the classic features Dashboard enables users to manage ICO campaign via a graphical wizard
• Market component will list the ICO's with their rankings and labels which are updated in real time by interacting with Benchmark feature.
• Benchmark tool provides the results of the expert verification and automatic real time analysis about the ICO's utilizing tests like code analysis, unit testing, testing in a simulated environment and load testing.
• A private cryptocurrency Exchange which supports all the ICO's launched on the platform enabling the token holders to trade their tokens before official listings. Initially BTC, ETH, LTC and ZCL will be supported.
• Smart Wallet will enable purchases into ICO's and voting for them
• Loligo offers a direct professional support to investors through its' parent company. This support covers complete support, expertise, auditing or even code writing.
• Unlike the traditional explorers such as Etherscan, Smart Explorer to be provided will enable investors to monitor the evolution of the ICO and projects in detail together with the general view of their context and state.
• Ethereum relay is another important feature of the platform where in basic terms, is a component which enables the interaction between two blockchains.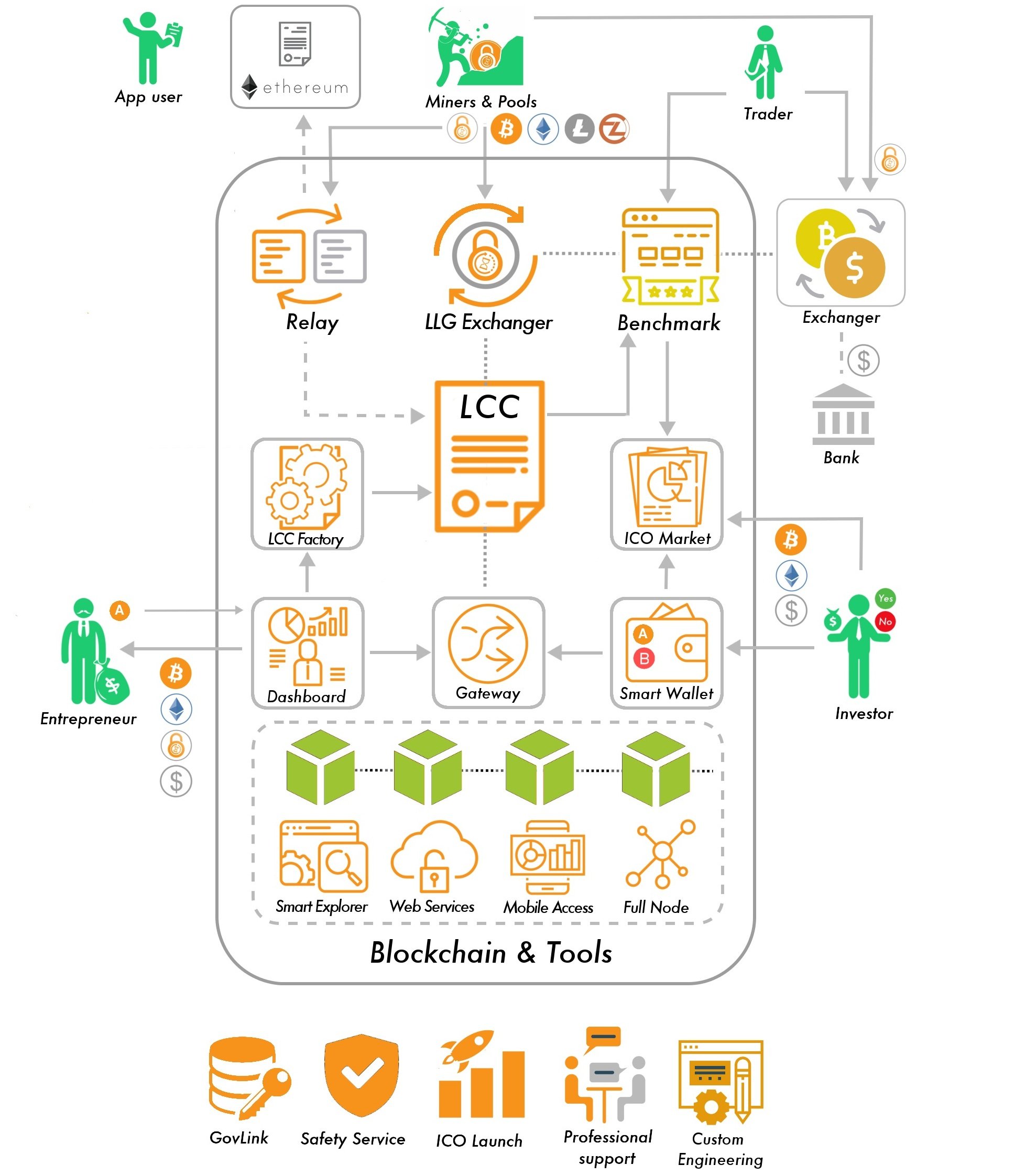 Business Model
Although Loligo is an open source project, in order to maintain the code and develop new features to stay competitive in the market a business model has been established. For those who want to launch an ICO there are other paid options as Premium and Advanced each have distinct level of safety and ergonomics. Each option has limited and unlimited access to various services which could be viewed at
https://loligo.co/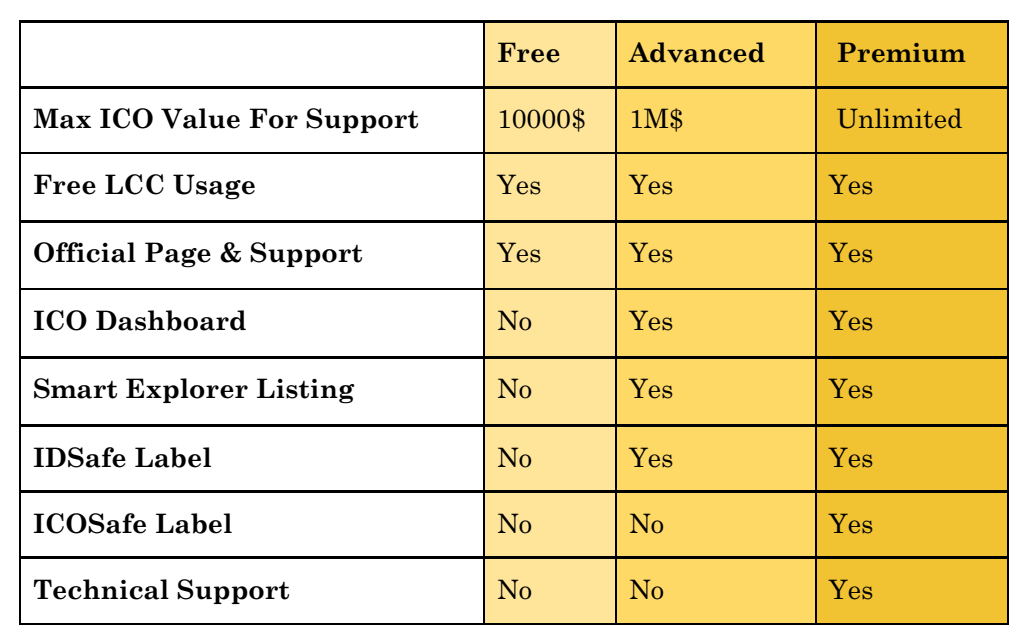 Services Provided
ICO Launch
This is a service for companies who wish to raise funds via crowdfunding. The service includes provision of technical expertise, development of various deliverables, scheduling and promoting the campaign.
Professional Service
This service is the strictly commercial part of the project which will leverage the open and free code of the platform to get the maximum benefit.
GovLink
As the emerging fundraising method there is not a complete regulatory frame applied to the ICO's. This is vital in order to make process sustainable but only several governments are investigating ways to implement a legal framework. This service is one of its kind and is capable to provide variety of instruments to monitor the financial status of accounts and take necessary actions in case fraud is being detected. Some of the instruments are, decleration of suspicion, accounts management and transaction blocking, automated payment of taxes and gains etc.
Token Metrics
Total supply: 150,000,000 LLG (Minable)
Total ICO supply: 16,000,000 LLG
Technology: ERC-20 then Loligo Blockchain (see roadmap)
Available for purchase: 11,200,000 LLG
Accepted currency: fiat/ETH during private sale. FIAT, ETH, BTC, LTC in public sale
SoftCap / HardCap: 0.95M$ / 12M$
Initial rate: 1 LLG = 0.003 ETH (±1.07$)
Token Sale

Refund
In case the Softcap is not reached, all funds raised will be refunded to investors.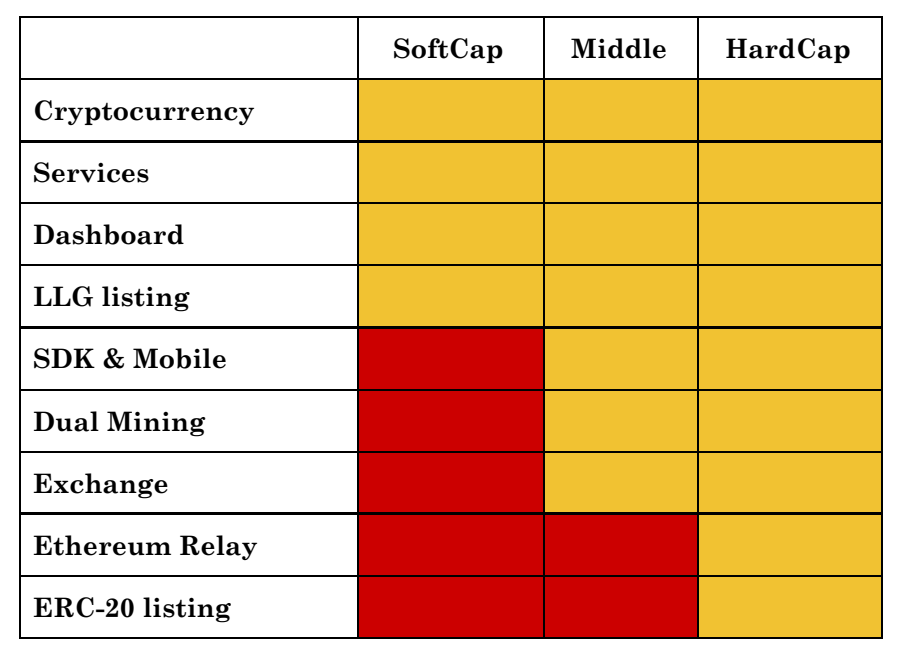 Roadmap
The project roadmap is tight and all the milestones will be covered in one year which is good for the investors in terms of return on investment.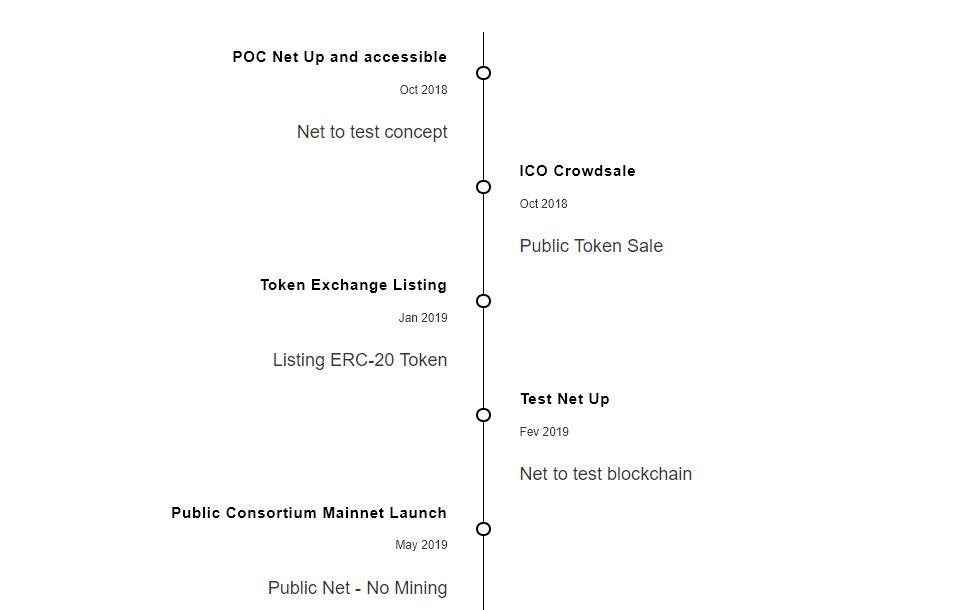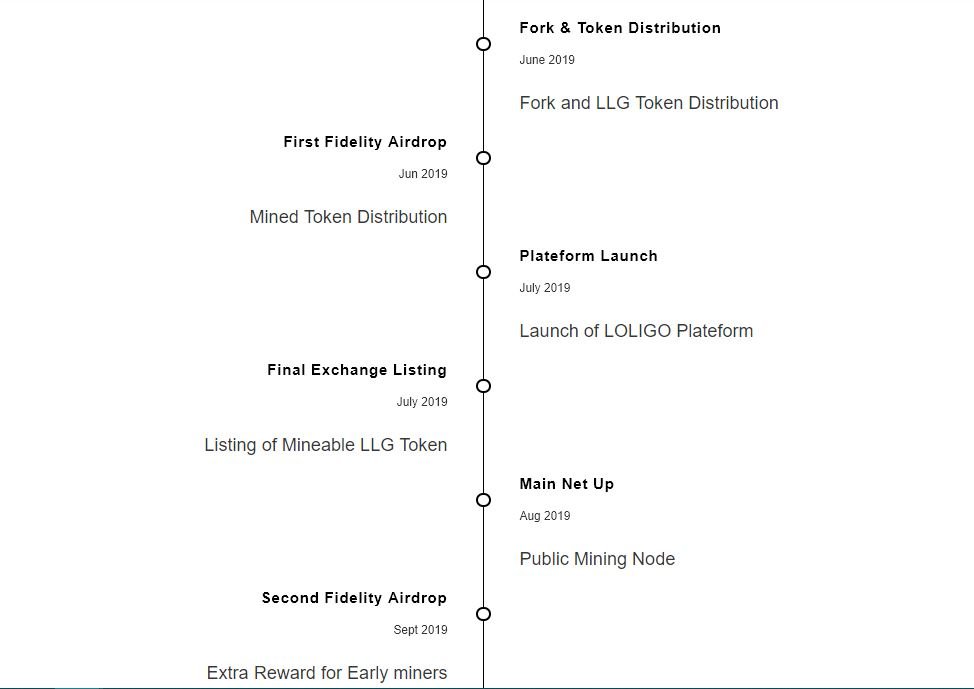 Team
The core team is composed of 9 seasoned professionals whose experience range from technology, entrepreneurship, blockchain technology, IT to ICO and e-commerce. Names and other details of the team members could be found at
https://loligo.co/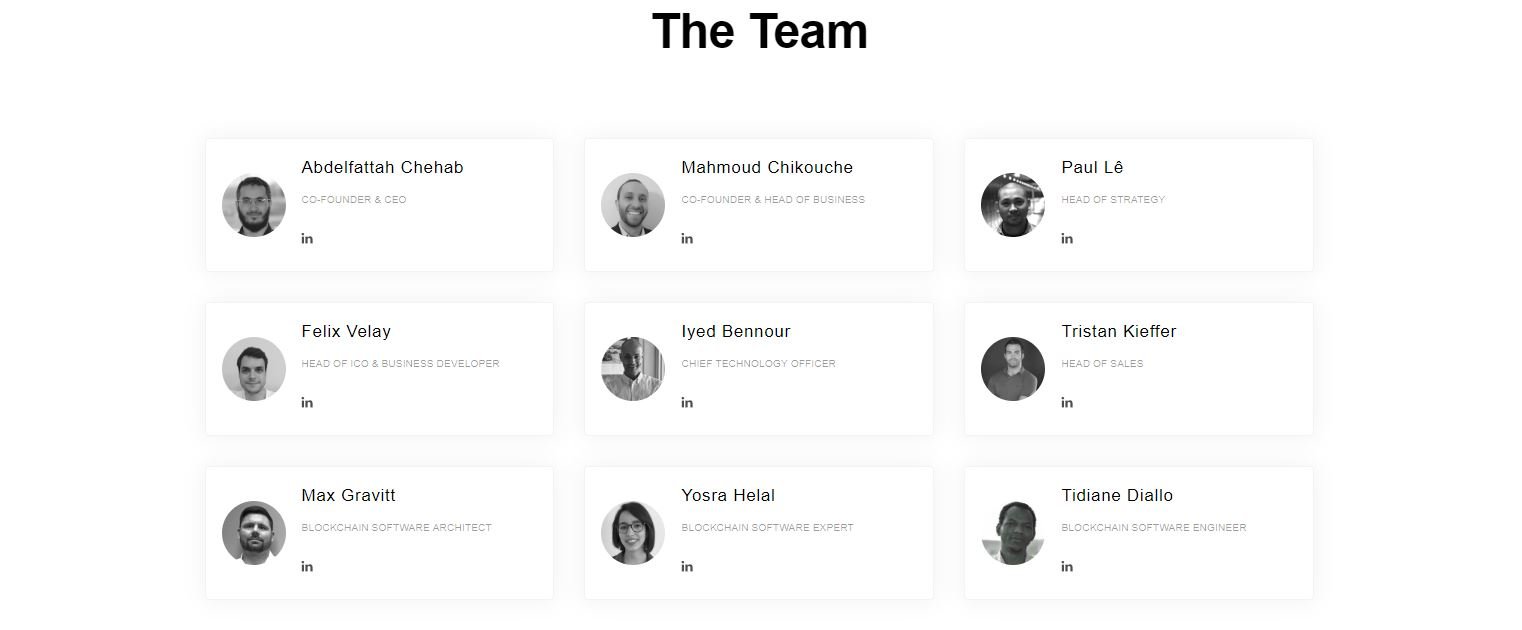 Advisors
Advisory board constitutes of 5 senior professionals who has diversified skills in Machine Learning, IoT, Computer Vision, Augmented Virtual Reality, AI & Robotics, SEO, VC and Angel Investments, e-Commerce Optimization, Sales, Initial Coin Offerings, Crypto Currencies and PPC Marketing, Blockchain Cryptography, Database, Robotics Modelling, Programming and Big Data. Names and other details of the advisory board members could be found at
https://loligo.co/

Conclusion
Loligo coin (LLG) is a minable coin of which only 16 million of them will be pre-mined for ICO. There will be more than this figure so this eliminates miners to dump pre-mined coins on the exchange thus devaluation of the coin is prevented. Another great advantage of LLG is that it is a true store of value similar to Bitcoin. Total supply of LLG coins will be 150 million and the amount is fixed. Scarcity of coins ensures that in the mid to long term returns on investments are guaranteed.
Implementation of the staggered contract LLC, Loligo will enable investors to vote on the performance of the ICO Launcher. At extreme cases when the voting result happens to be negative, ICO project would be stopped and the funds would be returned to the investors. This gives control back to investors. This mechanism will force ICO Launchers to keep up with their commitments as stated in the road map which makes ICO investment safer than ever.
With the experience pool generated as a result of the established team, there is no doubt that, team would reach their targets and deliver the promised products/milestones along with a certain success level. Team has got the necessary skills and expertise in terms of technology and its' implementations so this elevates the trustworthiness to a higher level.
Having dedicated people for help is crucial for a purchasing process like ICO. The professional support provided for investors guarantees a smooth ICO phase which makes the platform attractive for the investors.
Smart Explorer is a revolutionary idea implemented which helps the investor to monitor the present condition of the ICO or projects. This is far better than waiting for the community updates given by or at least need to be given by the ICO teams periodically. Brings transparency and helps investors decision process to be reliable and healthy when it comes to vote on the ICO.
Benchmark tool is a unique way to keep the funds of investors safe by ensuring the robustness and the performance of the smart contract written. Platform evaluates the ICO just by utilizing this tool in which experts provide recommendations and the ICO is being analysed on a continuous and automated way and keep the score of ICO updated. Thus Smart Contract hacks are prevented and robustness of the ICO is monitored.
Internal exchange provided is another great feature that comes with the platform. It is mainly considered for the investors to be able to sell their tokens before those tokens officially hit the exchange. This is a supportive feature for the investors where they may monetize the tokens in case they need funds as well as a place for miners to sell their mined coins.
Ethereum relay is an open architecture and offers flexibility to perform many innovative deployments across the networks such as participating in a Loligo ICO with an Ethereum account which basically allows for a direct access to a currency pair which is already available and purchasable. In addition, it provides interaction with services already deployed on Ethereum from a contract. Moreover, this relay enables migration of an Ethereum ICO to the final Loligo chain without the need for snapshot effort. As you can see there are many innovative deployment alternatives provided by this relay.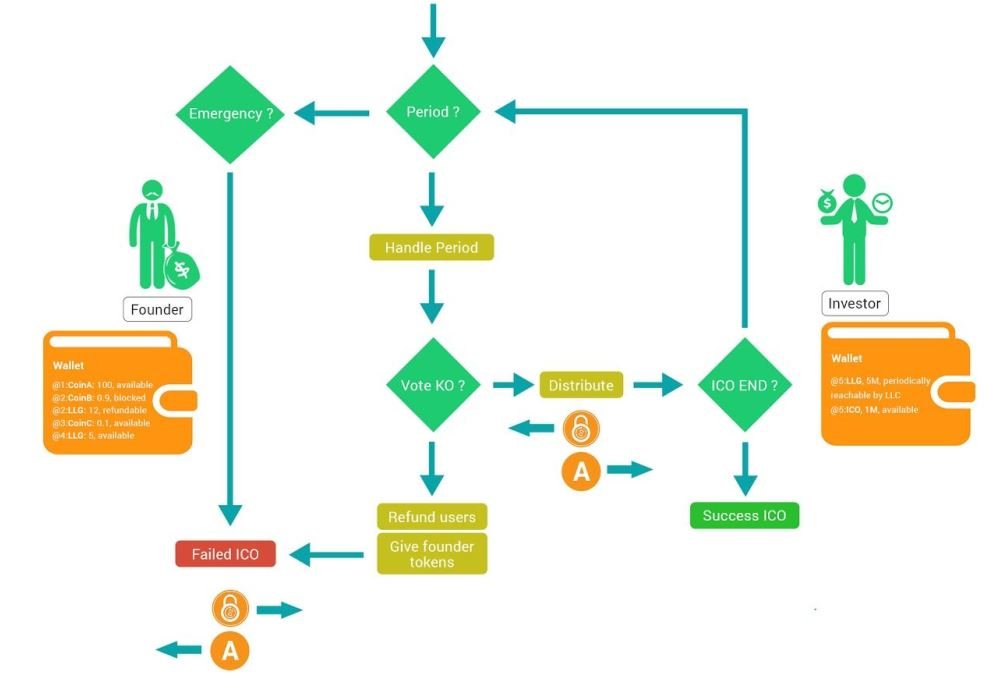 The services provided by the platform are all unique and makes the platform attractive for ICO launchers. ICO Launch is a complete service where the entrepreneur do not need to consider about anything related to the process. Whereas, professional service will be the showcase of the code of platform which will elevate the fame of the platform across the industry while, providing funds for the platform to run. GovLink is a revolutionary idea which would help the governments to implement regulation on the ICO's therefore, one day in the future applicability of ICO's through Loligo platform would become worldwide without limitations.