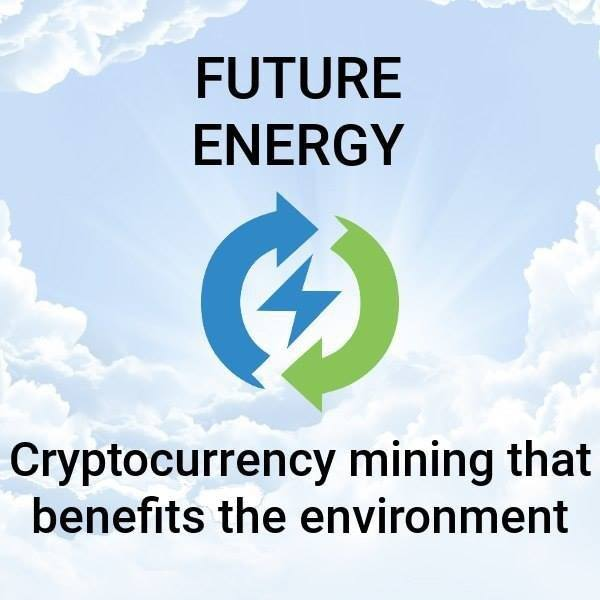 Hello everyone, If you are interested in joining the Future Energy project, it is a good idea to read reviews that can help you get information that might help you in seeing their vision and mission, the following:
About FUTURE ENERGY
FUTURE ENERGY will optimise the operating expenses for cryptocurrency mining through use of non-traditional sources of renewable electric power with an operational component of 0
Wacth this video: THE IDEA OF THE PROJECT
OVERVIEW
Use of the tokens from the first day of purchase
For the duration of the project we will install the mining modules on our established farm with an electricity tariff of $ 0.05
Profitable
Upon completion of the installation, the cost of kW/h will be 0. This guarantees profitable mining
Decentralization
We generate our own electricity and are not dependent on central electric networks and their tariffs
Autonomy
Plants are fully automated and do not require maintenance personnel. No raw materials are required
Ecologically clean way of obtaining energy
Our developments in electricity generation resolve a number of environmental concerns, substantially reducing CO2 and H2S emissions
Security
We have an internally developed security system for mining modules and software protection
COSTS OF ELECTRICITY
It's not a secret that the main cost of cryptocurrency mining is electricity. This trend will continue due to the development of the cryptocurrency industry and Blockchain.
The "ASIC revolution" in the technology used for bitcoin-mining is about to come to an end. ASIC's chip format for mining is coming close to the nanometre limit of Moore's Law. For this reason, substantial future growth in the production of the chips is impossible.
This results in the commoditization of chips, meaning they become simple commodities in the eyes of the market or consumers and suddenly drop in value. This will result in manufacturers being forced to concentrate on mass production in order to profit from volumes, rather than utilising technological advances. Due to the race to develop the most up-to-date technology, the bitcoin mining industry will transition to a state of overproduction of equipment. The determinant factor of production will be electricity, rather than the efficiency of the equipment.
We are at the front of this global race with no competitors. Our energy costs are zero as we invest in green energy generation at the construction phase. Our energy plants provide free green energy with a plant lifetime of 40 years.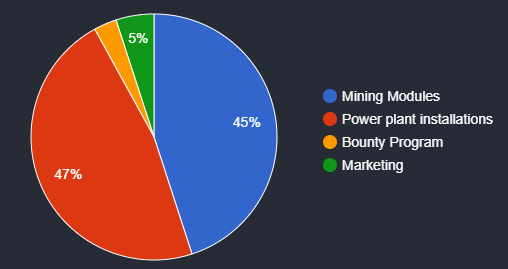 We have 49 patented developments in the field of renewable energy
Our operational farm has been operating since 2014 with the computing power of 9.6Ph by SHA256
Our team includes world-renowned scientists and professors
FUTURE ENERGY has been engaged in the mining of crypto currency since 2014. We are currently based on our own land and utilize a voltage power transmission line from the 110 kV substation. Currently, we are able to increase capacity to 50 MW at a tariff of $0.05 per 1 kW / h. This will ensure mining modules continue to run for the period of construction of our own renewable energy farms.
Since 2014 our team has grown to include a group of world-renowned scientists. We deliver an efficient, economical, clean and independent energy supply solution for our mining modules. Currently, 49 of our developments have been patented in the field of renewable energy sources and sources of atom energy for peaceful purposes, most of which have been actualized.
PROJECTED TIMELINE
FUTURE ENERGY project is based on real developments which have already been implemented.

The project team consists of highly qualified specialists including a group of world-renowned scientists and professors with academic titles. Each team member has made great advances in their field.
The FUTURE ENERGY project is comprised of the best specialists from a range of industries including Blockchain, science, construction, business, construction, IT, law, electrical installation specialists, commissioning and equipment maintenance.
Andrey Kadochnikov: Founder
Launched 5 successful start-ups in the past 15 years
Sergey Scheklein: Chief Researcher/ Chief of Research
Doctor of Technical Sciences, Professor, Head of the Department of Nuclear Power Plants and Renewable Energy Sources
Elizaveta Gulyakova: Public Relations and Marketing
Alexander Marakulin: Lawyer
Expert in the field of copyright and civil rights
Nemihin Yuri: Inventor
Associate researcher of the Department of Nuclear Power Plants and Renewable Energy Sources
Olga Kolmogorova: Project manager
Engineer of electrical networks and ventilation systems designer
Alexander Popov: Inventor
Associate researcher of the Department of Nuclear Power Plants and Renewable Energy Sources
Ilya Kochnev: Expert
Department of Fuel and Energy Complex of the Ministry of Energy and Housing and Communal Services
Rinat Farhushin: Blockchain Support
Denis Kurennov: Technical Specialist
Installation, commissioning, repair, adjustment of equipment
To find more relevant details from the Future Energy project, please follow a number of sources for the following references: